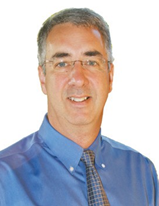 Eric Kondrit opened his Aspinwall investment office in 1995 and has been a Certified Financial PlannerTM since 1996. Eric focuses on helping his clients achieve greater financial independence through his Financial Planning process, and by managing client investments toward Retirement Income, Education Funding, and Wealth Accumulation goals.
A key to Eric's success is his ability to understand clients, and his ability to transfer broad goals into measurable real-world expectations. He then focuses on probabilities and develops a systematic process to meet these financial goals by pursuing smaller, progressive steps.
Eric believes that in successfully managing his client's financial goals, he can help them to enjoy a life of less worry and stress, while giving them more time and freedom to pursue what makes them happiest.
As a CFP® professional and an Investment Advisor Representative, Eric acts in the capacity of a fiduciary, which means he is legally obligated to act in your best interest.
Eric holds Financial Industry Regulatory Authority (FINRA) licenses: S6, S7, S63, and S65. Eric has State Security Registrations in PA, CA, CO, FL, GA, IN, MD, NC, NH, NJ, NY, OR, SC, TX, and VA.
Eric grew up in Aspinwall where his office is located, graduated from Fox Chapel High School, Indiana University of Pennsylvania, and Slippery Rock University of Pennsylvania. He received a Bachelor's Degree and a Master's Degree in Counseling Services.
Outside of the office Eric enjoys spending time with his wife Mary Jo, his two children, and their chocolate lab Cooper.
Securities and Investment Advisory services offered through Woodbury Financial Services, Inc., Member FINRA, SIPC, and Registered Investment Adviser, 400 Loop Street, Pittsbugh, PA 15215 (412) 782-5003